Are Lyrics Not Working on Spotify App on Android. Here is the Simple Guide to Fix Spotify Lyrics Not Showing Up on Android.
Music becomes an expressive medium, allowing listeners to connect with their favorite performers and find hidden depths. While some people love singing along to their favorite songs, others seek the deeper connection that lyrics provide.
Spotify is an excellent platform that allows you to listen to your favorite music while also offering lyrics to sing along with. Listeners can understand the meaning of the song, relate to the emotions, and appreciate the artist's originality on a personal level when the lyrics are displayed.
However, users report that Spotify Lyrics is not showing up on their Android devices. If you are facing the same issue, do not be concerned. We've got you covered! In this guide, we will look at various potential solutions to help you resolve this problem. So let's get started.
Top Fix Spotify Lyrics Not Showing Up on Android
If you're experiencing issues with Spotify lyrics not showing up on your Android device, there are several troubleshooting steps you can try to resolve the problem:
1. Check if you are Connected to the Internet
Spotify's lyrics feature requires an active internet connection to get and display the lyrics for the music you're listening to. If you are not connected to the Internet or have a poor connection, the lyrics may not appear. Ensuring you have a reliable internet connection increases your chances that the lyrics will appear on your device while using the Spotify app.
2. Restart the Spotify App
Sometimes, the app may encounter temporary glitches or become unresponsive, and a simple restart can refresh its functions. If you're having trouble with lyrics not showing up, try restarting the app once. This action may resolve the issue and allow the functionality of the lyrics to function properly.
3. Check if the Song has Lyrics
The next thing you may do is see if the music has lyrics. Some songs on Spotify may not have lyrics available in their database. By confirming this, you can avoid confusion and ensure that the lack of lyrics is not due to a problem with the app or your device. It lets you know that the lyrics feature is functioning properly for other songs, and you may enjoy singing along to those that have lyrics.
4. Disable Offline Mode
When Offline Mode is enabled, Spotify will only play downloaded music and not receive real-time data, such as lyrics. Disabling Offline Mode allows the app to connect to the Internet to fetch lyrics for the music you're listening to. So, if you're experiencing missing lyrics on Spotify, make sure Offline Mode is turned off to enable the lyrics feature.
5. Update Spotify
Updating Spotify may resolve the issue of lyrics not showing up on Android. Updates frequently include bug fixes and improvements that may resolve issues with the app, such as the display of lyrics. To improve your chances of resolving the issue, make sure you have the most recent version from the Play Store.
Launch the Google Play Store search app on your device.
Tap the Account icon in the upper-right corner.

Go to the menu and select Manage Apps and Devices.

Select the "Updates available" option.

Check out the Spotify app's list of upcoming updates.
Tap the Update button next to it.

If updating the app doesn't solve the issue, you can try the next option.
6. Try Playing Another Song
Sometimes the problem with lyrics not showing up is specific to a certain song or album. Playing a different song can determine whether the problem is song-specific or more general. If the lyrics appear for the new song but not for the previous one, it indicates the music you first tried may not have lyrics available on Spotify.
7. Sign Out and Log In again
Sometimes, user sessions can become corrupted or encounter temporary glitches, leading to various problems with the app's functionality. By signing out and back in, you refresh your session and allow the app to restart, which may resolve any issues with the lyrics display. It's a simple troubleshooting technique that can frequently solve small program issues.
To sign out of the Spotify app,
Tap the gear icon in the top-right corner.

Scroll down and tap on Log out.

After you log out, login back into your Spotify account to see whether the problem persists.
8. Reinstall Spotify
Reinstalling the application can resolve potential app-related issues by providing a fresh installation with all relevant files. It can also remove any corrupted or incorrect data that may be causing the problem. Make a note of any downloaded playlists or tracks before reinstalling, as they will be deleted throughout the process. After reinstalling Spotify from the Play Store, log in again and see if the lyrics are now properly displayed.
9. Clear the Spotify app Cache
The cache holds temporary data that the app uses to load things more quickly, but it can get corrupted or cause conflicts, resulting in a variety of app-related issues. Clearing the cache effectively resets the temporary data, which may resolve the issue with lyrics not showing. In such cases, Spotify's settings menu allows you to remove its cache. To do so:
Launch the Spotify app on your smartphone.
In the top-right corner, tap the gear symbol.

Scroll down and select Clear cache.

When prompted, select Clear Cache once again.

After that, restart the app and see if it displays music lyrics.
10. Check Spotify's Server Status
If there is an issue with their servers, it might be causing the lyrics problem for many users. By verifying the server status on Downdetector, you can determine if the problem is on your end or theirs. If it's a server issue, you'll need to wait until they fix it.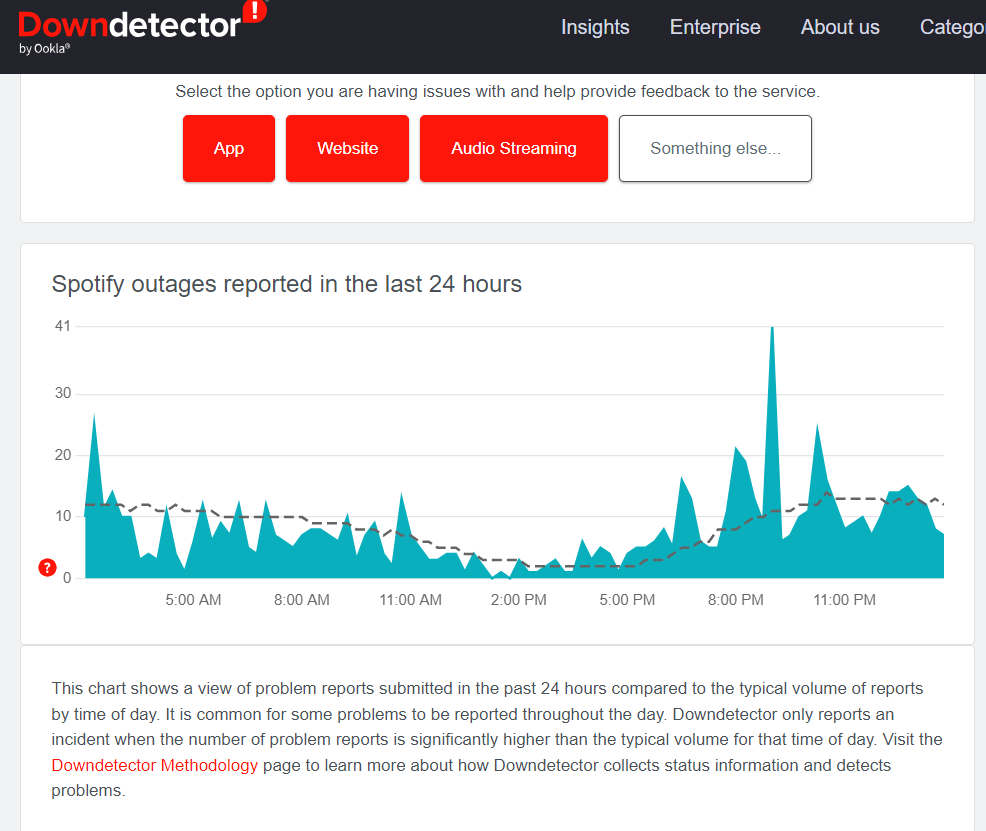 Wrapping Up!
Encountering an issue with missing lyrics on your Android Spotify app can be vexing, but it's a common challenge that many users face. So, keep your spirits high! Embrace the joy of melodies, and if you encounter any bumps along the way, remember that challenges make the journey exciting. Keep grooving to your favorite tunes on Spotify!
If you've any thoughts on How to Fix Spotify Lyrics Not Showing Up on Android?, then feel free to drop in below comment box. Also, please subscribe to our DigitBin YouTube channel for videos tutorials. Cheers!
Affiliate tivustream.com partecipa al Programma di Affiliazione Amazon EU ed in qualità di Affiliato Amazon tivustream.com riceve un guadagno (commissione) dagli acquisti idonei effettuati sul sito Amazon.it provenienti dai link proposti negli articoli o pagine di questo sito .