StreamBuffRe – (Buffer e redirect stream) consente di bufferizzare (scaricare in ram) e reindirizzare i flussi multimediali verso varie destinazioni. Sulla base di questa funzionalità di base, è possibile guardare, salvare e gestire molti flussi multimediali disponibili.
La sua architettura di plugin fornisce un modo per aggiungere ancora più funzionalità.
Cosa puoi fare con StreamBuffRe:

     guardare comodamente uno o più stream tramite giocatori nativi,
     scaricare e / o convertire video e streaming live,
     organizza i tuoi stream nei preferiti e informati su quelli nuovi tramite i feed.
Per soli 10 Euro /anno si puo' acquistare al licenza completa che prevede alcune funzionalita' ed estensioni alla versione FREE
Terms of full license
Before getting a full license key for StreamBuffRe by either ordering or redeeming a promo code, be aware of the following conditions:
One license is only valid for a single computer
One license is valid for one year
A license key stays valid for only a single hour after creation
The computer StreamBuffRe runs on needs a connection to the internet for activation
A full license is for private use only
Only one license can be active at a time
Get your license key
There are two possibilities to get a license key for StreamBuffRe:
You can either buy a new license key: 1 year full license 10.00 € After correct payment you will be redirected to a page showing your bill and license key.


Or enter a promo code to get a new license key:
Advantages of a full license
The table shows the difference between the free and the full license:
| Feature | Free license | Full license |
| --- | --- | --- |
| Automatic updates | ✔ | ✔ |
| Add streams via URL | ✔ | ✔ |
| Add streams via clipboard | ✔ | ✔ |
| Batch download/convert streams | ✘ | ✔ |
| Max amount of search results | 1 | ∞ |
| Max amount of favourites | 2 | ∞ |
| Max amount of favourite folders | 0 | ∞ |
| Directly add favourites | ✘ | ✔ |
| Max amount of feeds | 1 | ∞ |
| Max amount of player profiles | 1 | ∞ |
| Max amount of widgets | 1 | ∞ |
| Max amount of history entries | 3 | ∞ |
| Use external plugins | ✘ | ✔ |
| Max amount of parallel players | 1 | ∞ |
| Max amount of PhantomJS scripts | 3 | ∞ |
| Watch streams synced via connections | ✘ | ✔ |
Download FREE : https://streambuffre.com/download/
Screenshots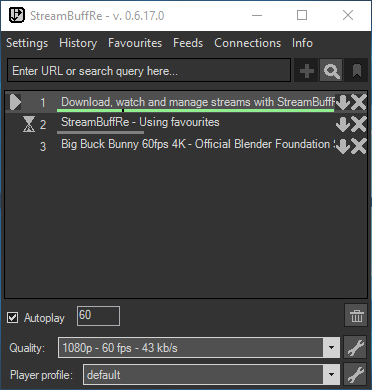 Main window
In the main window you can either add streams to the playlist via URL or start searching them.
Once in the playlist you can save or watch streams, add them to your favourites and much more. The bars beneath the stream names tell you the buffering progress. Once green the download is complete.
Beneath the playlist, you can select the quality of the selected stream and the player settings used to watch it.
Preview window
You can minimize StreamBuffRe to your system tray and let it run in the background while buffering and watching streams. Hovering over StreamBuffRes sytem tray icon will open the preview window and inform you about your streams.
You can customize it to match your needs by adding different widgets. Among them are a timetable for events from google calendars or .ical and .ics files, an online checker for livestreams, a direct search for streams and a remote controller for running players. Many widgets let you start the configured streams with a single click.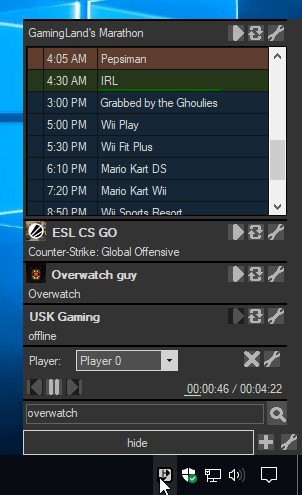 External players
One of StreamBuffRes main features is the tight integration of external players which lets you watch several streams in different players at once. You can also buffer other streams at the same time, as long as your internet connection can handle it. The different player profiles are the perfect way to start the players just like you need them. Perfect for multi monitor systems, especially when playing in full screen in one of them while watching streams on another one.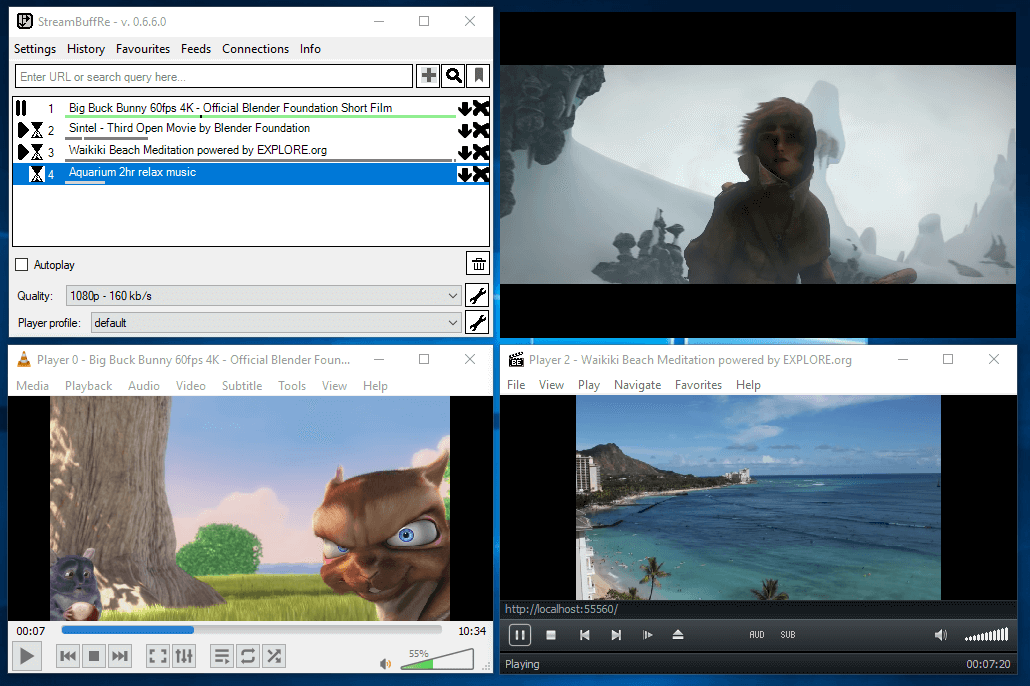 Integrated search
You can search for streams and playlists from several services. The picture shows the results, which may contain videos, livestreams and playlists. You can add them to StreamBuffRes playlist or favourites and directly watch them with a single click. The result window can be customized to search only with specific services, change the order of results or switch to the bright theme.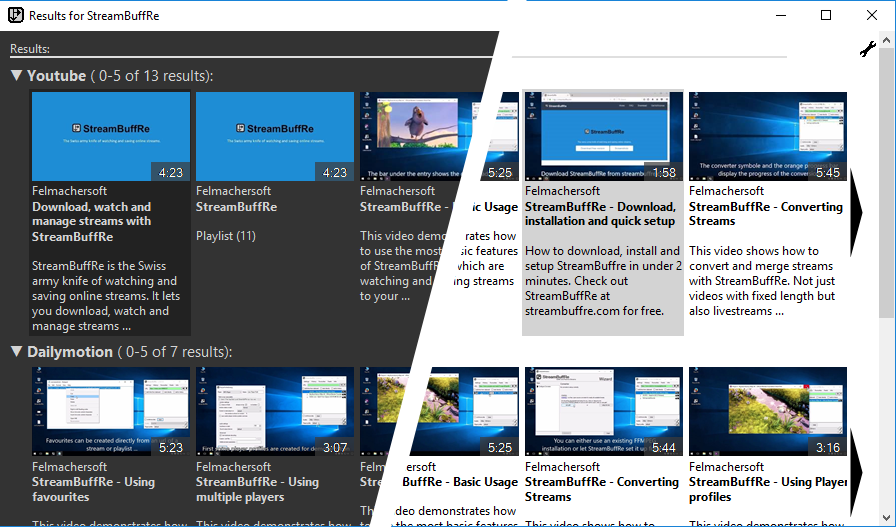 Remote control
In order to keep control over StreamBuffRe and all running players, it comes with a HTTP based remote control that is used like a normal website. All modern browsers are supported, including browsers like the Steam game overlay or the Overwolf web browser rendering it perfect for gamers with two or more screens. The screenshot shows the remote control used in an android browser (default theme) and in the Steam game overlay browser (dark theme). You can also customize the interface by editing its HTML and JavaScript code to fit your requirements.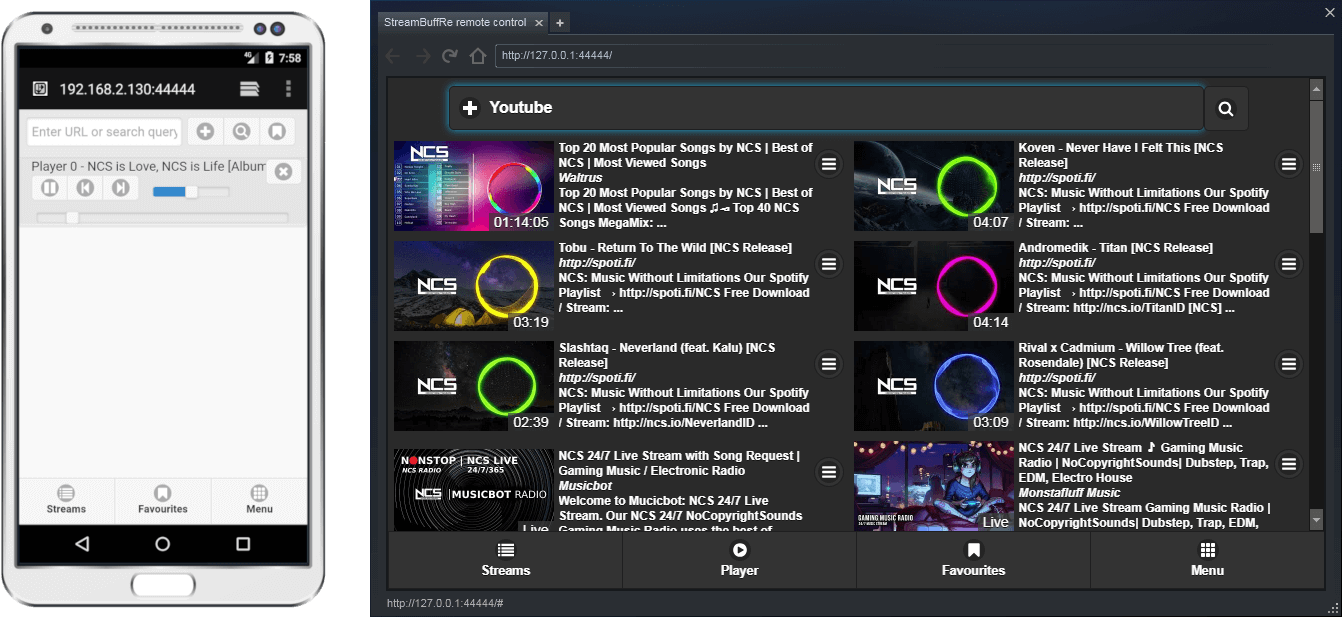 Connections
StreamBuffRe instances can be connected to each other via different types of connections. This works in your LAN or online without the need to create any user accounts or a central server. Once connected to others you can see what they watch right now and play it for yourself; even synced from the same stream position. Furthermore, you can exchange favourites and feeds as well as recommend streams to others.
The screenshot shows the Connections window with several active connections. Some contacts are online and watching streams, others are currently offline.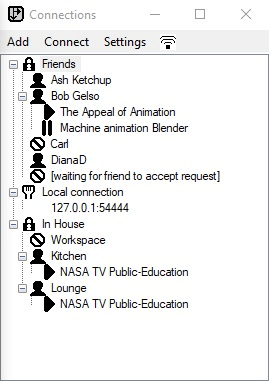 Tasks
Tasks let you automate StreamBuffRe by executing predefined commands triggered by certain conditions. The taskmanager, shown in the screenshot, lists all available triggers and the attached tasks on the left, the settings of the tasks trigger in the middle and the corresponding command with its setting on the right. Recording livestreams as soon as they go online, downloading all new videos of feeds, playing videos synced with contacts or showing notifications at certain times are just some examples for tasks. StreamBuffRe offers menus in many different places to quickly create tasks for most frequent use cases.